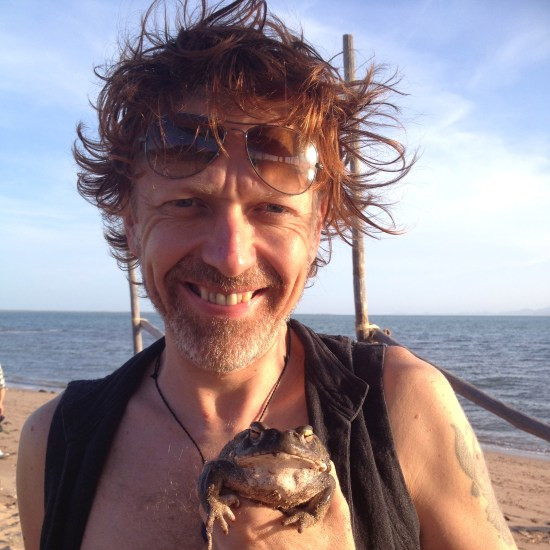 Our guest today is Rak Razam - the world's leading 'experiential' journalist, writing about and helping shape the emergence of a new cultural paradigm in the 21st century. A writer, film producer and culture maker, he bridges the worlds of shamanism, consciousness and popular culture.
He is currently producer and host of an episodic TV show called Shamans of the Global Village and also hosts the popular podcast show In a Perfect World. Author of the critically acclaimed book Aya Awakenings: A Shamanic Odyssey, he is a frequent lecturer on ayahuasca and the shamanic revival sweeping the West. He wrote, produced and co-directed the groundbreaking visionary documentary Aya: Awakenings and he leads ayahuasca retreats in Peru and toad medicine retreats in Mexico.
He has been hosting dynamic speaking engagements, panel facilitation and lectures across Australia and North America at conferences, transformational festivals and other events for the past five years, weaving together the New Age, counter-culture and progressive thought. He has been called one of the "leading spokespersons for the new paradigm".
→  Rak's website: www.rakrazam.com
The TruthLover podcast is presented by Love & Truth Party (www.loveandtruthparty.org) and features Author, Speaker, Transformational Coach, Retreat Leader, and Entrepreneur - Will Pye (www.willpye.com) in dialogue with fascinating visionaries and luminaries exploring Consciousness, the Nature of Reality, Awakened Activism, Individual Awakening and Collective Evolution, Science and Spirituality.
➠ While the podcast is offered freely, we invite you to give the gift of dana/donation if you find the content useful.
By giving to Love & Truth Party you help further our impact serving global awakening: www.loveandtruthparty.org/support and also on Patreon: www.patreon.com/willpye